Savor Iowa's Culinary History Along the Lincoln Highway and Beyond
What comes to mind when you think of Iowa food? Everyone has an Iowa food story, and Iowa author Darcy Dougherty Maulsby will bring these stories to life on Friday, June 23 at noon in Denison during a program and book signing at The Boulders.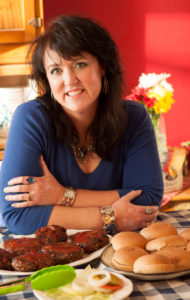 "From Iowa originals like Cronk's Café to Niland's Café along the historic Lincoln Highway, along with Maid-Rites, giant pork tenderloins, and homemade cinnamon rolls—served with chili, of course—there are many remarkable stories behind Iowa's tastiest traditions," said Maulsby, a Lake City native and lifelong Iowan who has been featured in the Iowa History Journal, Our Iowa magazine, Iowa Public Radio and more. "Pull up a chair, and relish what you missed in history class."
During her fun, interactive program, Maulsby serves up fascinating tidbits and cooking tips related to more than 150 years of Iowa cuisine and ethnic food traditions, from all corners of the state, with stories that include church dinners, the historic Younkers Tea Room, Laura Ingalls Wilder and more. Discover how Iowa's delectable cuisine is quintessentially Midwestern, grounded in its rich farming heritage and spiced with diverse ethnic influences.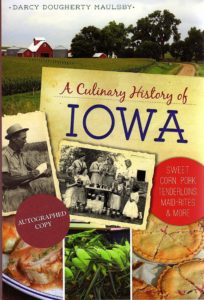 Want to know where in Iowa you can dine at a James Beard award-winning steakhouse? Any idea where to find Iowa's own distinctive style of potato chips, which might be the world's best chips? What if you want to step back in time and enjoy a slice of homemade pie at an Iowa icon that first opened in 1852? You'll pass the test with flying colors—and impress your friends—when you delve into Iowa's culinary history.
"Even those who are well acquainted with Iowa food lore are sure to find something new and interesting," said Julie Goodrich, who wrote a review of "A Culinary History of Iowa" for the September/October 2016 issue of Iowa History Journal. "Go on an adventure with this fun, fascinating and tasty tale of culinary traditions that weave through Iowa's past and present."
"I'm passionate about helping people make the farm-to-fork connection and reconnecting with Iowa history," Maulsby said. "If you have an appetite for adventure, you can't do better than Iowa when it comes to history, culture, and one-of-kind culinary experiences. 'A Culinary History of Iowa' offers a fun way to explore the world without leaving Iowa."
Signed copies of "A Culinary History of Iowa" will be available for $24 (includes tax) during the event, along with Maulsby's illustrated postcard collections featuring rural Iowa images and favorite vintage photos from the Culinary History of Iowa book. For more details, log onto www.ncsml.org/event/history-happy-hour-savor-iowas-rich-culinary-heritage, or www.darcymaulsby.com.